一、粗大晶粒产品的原因
  1、 Causes of coarse grain products
  在一定条件下,铝及铝合金板、棒及锻件在后续热处理过程中会在组织中形成较大的再结晶晶粒。这种粗粒的存在,会降低材料的力学性能,使深冲零件的表面变得粗糙或产生冲击裂纹。因此,获得均匀的细晶粒结构是生产粗晶粒,具有化学成分的合金,均匀的退火体系,变形温度?并对变形程度、固溶体热处理温度、加热速度、退火温度、保温时间等因素进行了分析。
  Under certain conditions, large recrystallized grains will be formed in the structure of aluminum and its alloy plates, bars and forgings during the subsequent heat treatment. The existence of such coarse particles will reduce the mechanical properties of the material and make the surface of the deep drawing parts rough or produce impact cracks. Therefore, to obtain uniform fine grain structure is to produce coarse grain, alloy with chemical composition, uniform annealing system, deformation temperature. The factors such as deformation degree, solution heat treatment temperature, heating speed, annealing temperature and holding time are analyzed.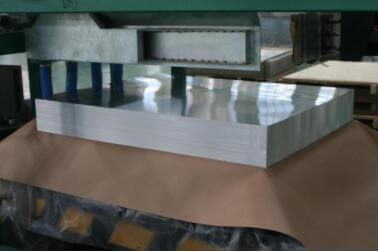 二、如何减少铝板热处理过程中产生的粗粮
  2、 How to reduce the coarse grain produced in the heat treatment of aluminum plate
  铝合金板材不容易变形,不容易产生粗大的晶粒。生产中减少或消除粗晶的一般原则是考虑上述因素,并根据具体情况采取适当的控制或消除措施。
  Aluminum alloy plate is not easy to deform and produce coarse grains. The general principle of reducing or eliminating coarse grains in production is to consider the above factors and take appropriate control or elimination measures according to the specific situation.
  三是以3A21铝板为例,看到粗粒的消除
  Third, take 3A21 aluminum plate as an example to see the elimination of coarse particles
  对于易产生粗晶的3A21合金退火板,可以采取以下措施来预防或消除:
  The following measures can be taken to prevent or eliminate the 3A21 alloy annealing plate which is easy to produce coarse grains:
  (1) 3A21合金半连续铸锭高温退火或热轧时,温度必须控制在500~520℃范围内。
  (1) When 3A21 alloy semi continuous ingot is annealed or hot rolled at high temperature, the temperature must be controlled in the range of 500 ~ 520 ℃.
  (2)当Mn和Fe的总质量分数小于1.8%时,w(Mn)=?在1.5%-1.4%时,w(Fe)>应控制0.4%,或w(Ti)=?0.1% ~ 0.2%的钛。
  (2) When the total mass fraction of Mn and Fe is less than 1.8%, when w (MN) =? Is 1.5% - 1.4%, w (FE) > should control 0.4%, or w (TI) =? 0.1% - 0.2% titanium.
  建议在盐浴中退火。如采用空气炉,应尽量采用高温快速退火。
  Annealing in a salt bath is recommended. If air furnace is adopted, high temperature and rapid annealing shall be adopted as far as possible.
  (4)在退火前,成品的加工率一定要避免达到临界变形程度。一般来说,退火前成品的冷变形程度应控制在75%以上。
  (4) Before annealing, the processing rate of the finished product must avoid the critical deformation. Generally speaking, the degree of cold deformation of the finished product should be controlled above 75% before annealing.
  对于工业纯铝退火片材,可以采取以下措施来防止粗粒的产生:
  For industrial pure aluminum annealed sheet, the following measures can be taken to prevent the generation of coarse particles:
  (1)纯铝锭半连铸采用350~500℃的轧制温度为宜,轧制温度控制在上限,轧制终温不低于300℃
  (1) The proper rolling temperature for semi continuous casting of pure aluminum ingot is 350 ~ 500 ℃, the rolling temperature is controlled at the upper limit, and the final rolling temperature is not less than 300 ℃
  (2)退火前的冷变形程度不小于50%。
  (2) The cold deformation degree before annealing shall not be less than 50%.
  (3)宜在盐浴中退火,而在空气炉中退火时,应尽量提高加热速度。
  (3) It is better to anneal in salt bath, while in air furnace, the heating speed should be increased as much as possible.
  铝板生产厂家严格控制铝板产品的质量,如果您对铝板有要求,请联系我们的销售经理,给您一个全面的解决方案。
  Aluminum plate manufacturers strictly control the quality of aluminum plate products. If you have requirements for aluminum plate, please contact our sales manager to give you a comprehensive solution.