涂装是铝板制作中比较重要的工序,涂装质量的优劣,直接影响了铝板的装修作用.造成铝板涂装优劣的因素主要有四点,下面就让我们铝板厂家来带大家了解一下这方面的内容吧.对这方面感兴趣的朋友必定不能错过.
Coating is an important process in the production of aluminium sheet. The quality of coating directly affects the decoration effect of aluminium sheet. There are four main factors contributing to the quality of aluminium sheet coating. Let's let aluminium sheet manufacturers take you to know about this aspect. Friends interested in this aspect must not miss it.
1、环境
1, environment
要求涂装室内部清洁洁净,做到防尘、防虫和必定的通风功能,确保铝板涂装表面质量不受污染.一起因为气温变化而及时更改工艺条件.
It is required that the interior of the painting room be clean, dust-proof, insect-proof and ventilation-proof, so as to ensure that the surface quality of the aluminium sheet coating is not polluted. Together, due to the change of temperature, the process conditions should be changed in time.
2、原材料
2. Raw materials
涂料和铝板是涂装过程中较能影响涂装质量的因素,因为涂料的批次之间存在色差,涂料细度不行而涂覆率不高,涂料与溶剂配合不佳、分层等等会直接影响涂装作用而产生缺点'铝卷基材的不平坦、膜厚不均匀、边部挠曲度不佳等也直接影响产品质量和全体使用.因此,在选择原材料时,应严格操控.
Coatings and aluminium sheets are the most important factors affecting the quality of coatings in the process of painting, because there are color differences between batches of coatings, poor fineness of coatings and low coating rate, poor coordination between coatings and solvents, stratification and so on, which will directly affect the coating effect and produce shortcomings.'The irregularity of the base material of aluminium coil, uneven film thickness, poor edge flexibility also directly affect the quality of products and the overall use of the coatings. Therefore, the selection of raw materials should be strictly controlled.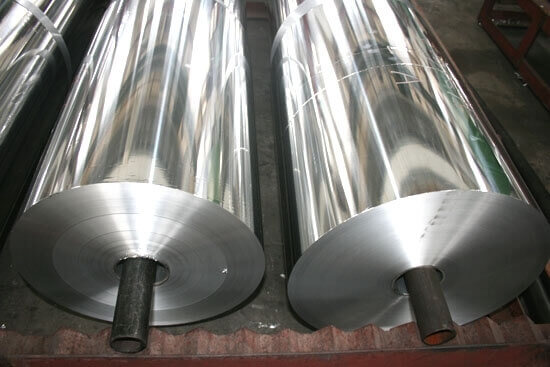 3、设备
3, equipment
涂装线要求涂装设备无缺,涂装设备要求工作平稳,不能有横、纵向抖动,涂装辊要求研磨细腻.涂装机所有辊子横向跳动,有必要操控在允许范围内,否则将严重影响涂层表面质量.
Coating line requires painting equipment to be complete, painting equipment to work smoothly, not to have horizontal and vertical jitter, coating rollers to be polished delicately. All rollers of the coating machine run horizontally, it is necessary to operate within the allowable range, otherwise it will seriously affect the surface quality of the coating.
4、工艺
4. Craft
涂装工艺对涂装的质量关系密切,要求对涂装辊、提漆辊、计量辊和基材相对线速比率操控在必定的范围内.要根据不同的系统和涂装产品的膜厚,对涂料设定必定的粘度范围,确保涂装顺利进行,促进产品质量的进步.涂料的固化工艺,烘箱操控有必要按要求操控,不得恣意变化,否则将严重影响涂装产品的色差和功能.
Painting process is closely related to the quality of painting, requiring that the relative linear velocity ratio of painting roll, painting roll, measuring roll and base material should be controlled within a certain range. According to different systems and film thickness of coating products, a certain range of viscosity should be set for coating to ensure smooth painting and promote the progress of product quality. Coating curing process and oven operation should be operated according to requirements. Control, not arbitrary change, otherwise it will seriously affect the color difference and function of painting products.
以上信息是我们铝板生产厂家整理发布希望对大家以后的生活带来一点帮助我们的网站是:http://www.jndclyyxgs.com!
The above information is our aluminium plate manufacturer to collate and publish hope to bring you a little help in the future life of our website is: http://www.jndclyyxgs.com!